Training & Documentation
At Sørby Utleie, we put safety first, and we want you as a customer to have the best conditions for working safely with our machines. Knowledge is important! We offer both documented and certified courses in our premises. See here (link to courses page) for our courses and course calendar. In addition to courses with an instructor, we have entered into a long-term agreement with DigiQuip, which brings machine safety digitally to each and every user of our machines. DigiQuip is a company that works to improve the safety of everyone who works with machines and equipment. They have done this by creating a common IT system for the entire industry, which involves the entire supply chain from manufacturers, retailers, machine owners, machine users and certification companies. When new machines are delivered to Sørby, we require the supplier that they must be registered in DigiQuip' s model register with associated content. This ensures the machine operator digital access to familiarize himself with the machine in a simple and easily understandable way. On machines you rent from Sørby, you will therefore find a QR code that you can scan with your mobile camera.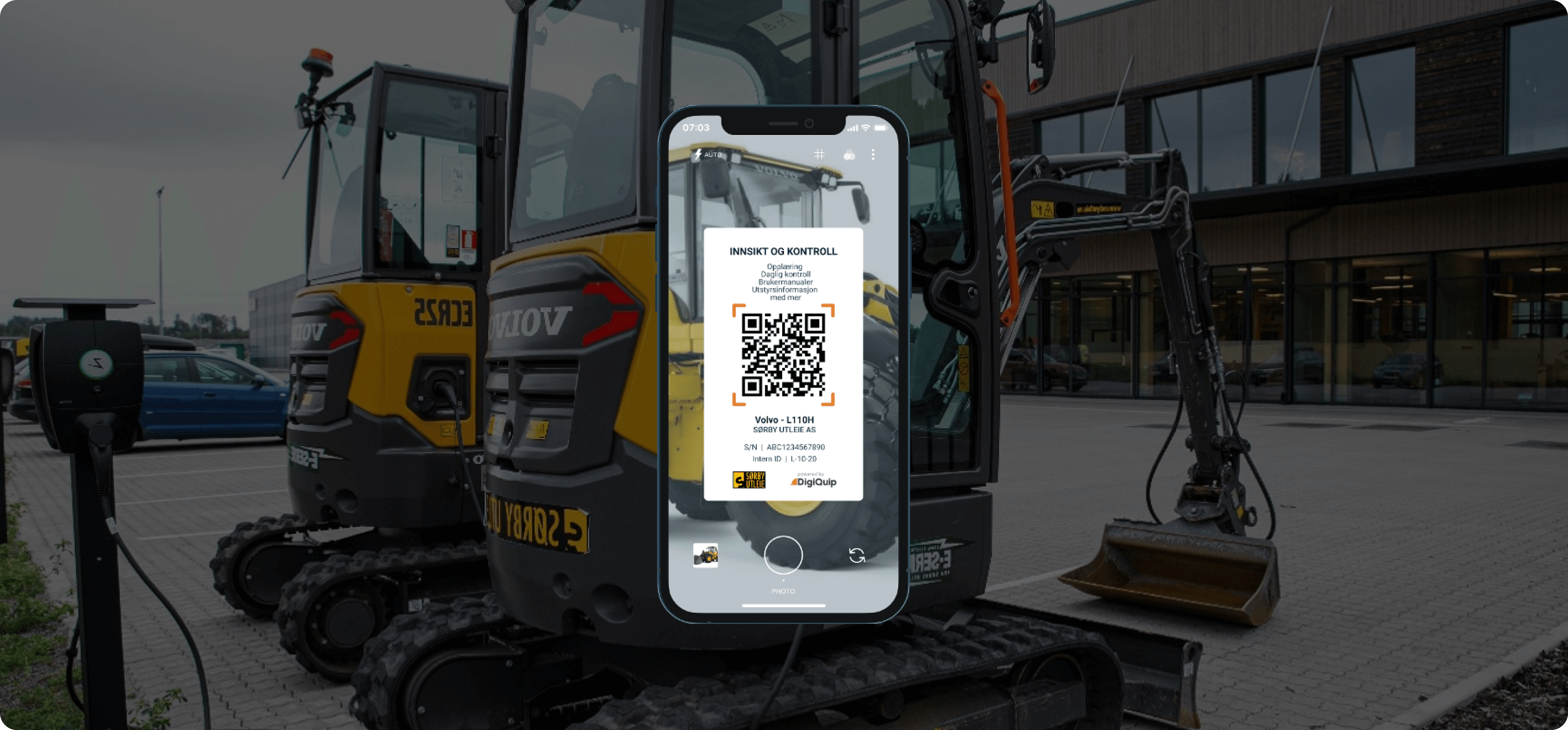 By scanning the QR code, you will get free access to instructional videos, checklists for daily checks, digital user manuals, competence requirements, declarations of conformity and control documents.
---
If you are an employer, you have a statutory responsibility to document type-specific training and control routines on all machines your employees use. Digiquip can help you with this. By registering your employees in DigiQuip, they will have easy access to update their skills, document type-specific training and check routines on all the machines we rent out.
If you also own your own machines, they will also be able to be registered, so that you have full control over the documentation, whether the machines are your own or hired. As a manager, you can know with confidence that your employees get what they are entitled to, and that if an accident were to happen, the documentation is in order.
Sørby Utleie is a DigiQuip partner, contact us and we will help you get started with your DigiQuip account.
---
For more information see digiquip.no